Cooking at Home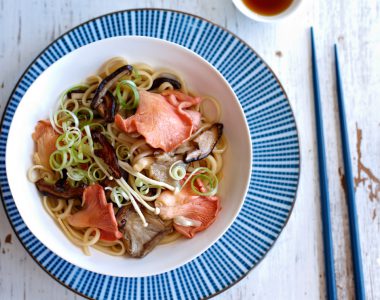 Ingredients
200g dried flat egg noodles
1 tablespoon (20mL) vegetable oil
1 red onion, cut into thin wedges
300g oyster mushrooms, halved
100g shitake mushrooms, stems trimmed
2 cloves garlic, crushed
1/4 cup (60mL) Kikkoman Naturally Brewed Soy Sauce
2 Spring (green) onions, thinly sliced, to serve
Kikkoman sauce used in this recipe

Naturally Brewed Soy Sauce
TOTAL TIME
20mins Cook time
10mins Prep time
10mins
Oyster Mushroom & Noodle Stir Fry
Method
Cook noodles as instructions on pack. Drain, then rinse under cold water. Drain again. Toss with 1 teaspoon of the oil.
Heat remaining oil in a large wok over high heat. Add the onion and stir fry for 1 minute. Add the mushrooms, and the garlic. Stir fry for 1 minute more. Add soy sauce and stir fry for another minute.
Add noodles and toss using tongs until noodles are heated through. Serve topped with Spring onions. Serve immediately.
Key tip
VARIATION: Substitute 300g any fresh mushrooms if desired.
VARIATION: Substitute Kikkoman Less Salt Soy Sauce or Kikkoman Sweet Chilli, Ginger & Soy Marinade & Sauce if desired.
Print this recipe