Cooking at Home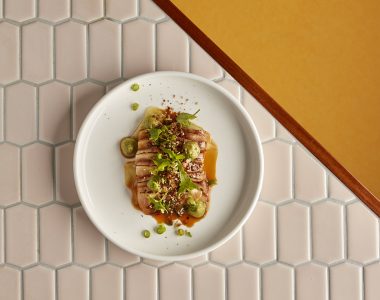 Ingredients
250g Sashimi grade Kingfish loin
50ml Kikkoman Tamari
30g Castor Sugar
50g Honeydew melon
30ml Rice wine vinegar
30g Castor Sugar
20 Basil leaves
1/2 Avocado
50ml Light olive oil
2 Green shallots
2 Sea Herbs sprigs
1 tsp Sesame & bonito furikake
Kikkoman sauce used in this recipe

Tamari Soy Sauce
TOTAL TIME
20mins Serves
2 Cook time
10mins Prep time
10mins
Tamari Cured Kingfish
Method
Pickled Honey dew melon
Slice the peeled melon thinly on a mandolin, Dissolve the sugar over a gentle heat with the rice wine vinegar, allow to cool slightly and pour over the sliced melon.  refrigerate and store in advance or allow to cool further and you can use this straight away.
Avocado Puree
Peel and chop the avocado, blend the oil and basil leaves to a smooth paste, add in the chopped avocado and blend careful not to over work or heat the avocado
(this will discolour)
King fish
Thinly slice the king fish and divide into 2 even portions. Lay this onto a small baking tray. cover with the tamari and the castor sugar and leave to stand for 10mins.
Using a blow torch or a very hot grill scorch the top of the fish to caramalised the sugar and the tamari.
Assembly
Place on your plate 5-6 slices of the pickled honeydew. Top with some of the avocado puree (this can be spooned or piped) Carefully arrange the kingfish on the melon and the avocado. Pour over the remaining Tamari and finish with the finely chopped shallots, furikake and sea herbs (you could substitute with coriander)
Print this recipe
See how to make this dish