Cooking at Home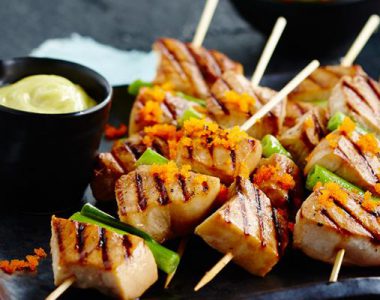 Ingredients
600gm swordfish
125ml Kikkoman Teriyaki Marinade & Stir Fry Sauce
4 spring onions, cut into 4cm lengths
10 – 12 wooden skewers, soaked in water for 15 minutes
2 – 3 tbsp. flying fish roe to serve
Wasabi Mayo
1 cup good whole egg mayonnaise
4 tsp. wasabi powder
1 tsp. fresh lime juice
1 tsp. honey
Dressing for Tomato Salad
2cm piece of ginger, finely grated
Juice of 1/2 lime
1 tbsp. Kikkoman Less Salt Soy Sauce
1 tbsp. honey
2 tbsp. peanut or vegetable oil
Heritage Tomato Salad
300gm small heritage tomatoes or cherry tomatoes, cut into wedges
100gm mixed lettuce leaves
​Lime wedges to serve
Kikkoman sauce used in this recipe

Teriyaki Marinade & Stir Fry Sauce

Naturally Brewed Less Salt Soy Sauce
TOTAL TIME
40min Cook time
10min Prep time
30min
Teriyaki Swordfish Skewers with Heritage Tomato Salad
Method
Cut swordfish into 2cm squares. Place in a large zip lock bag. Add the Teriyaki sauce and seal. Leave to marinade in the refrigerator for at least 30 minutes.
Meanwhile make the mayo by placing all of the ingredients into a small bowl and mix well. Cover the bowl and place in the refrigerator until ready for use. To make the dressing for the tomato salad, place all of the ingredients into a small bowl and whisk to emulsify. Set dressing aside until ready for use.
Combine vegetables with olive oil, sea salt and pepper and toss.
Thread the swordfish and the onion onto the soaked skewers. Heat a grill plate on medium heat. Cook for 2 – 3 minutes on each side or until fish is just cooked through.
To serve, assemble the tomato salad by placing the wedges in a serving bowl and drizzle with the dressing. Gently mix. Place the skewers on a platter and lightly sprinkle with the fish roe. Add the bowl of wasabi mayo and lime wedges to complete the meal.
Key tip
Flying fish or smelt roe can be sourced at Asian food stores.
Print this recipe