Cooking at Home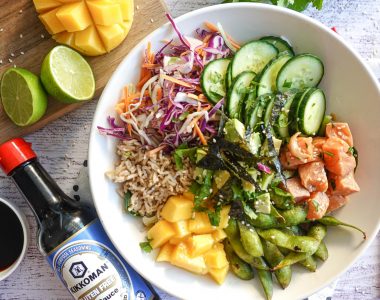 Ingredients
80g skinless salmon fillet, cut into bite-sized pieces
1 tbsp Kikkoman Gluten Free Soy Sauce
1 lemon, juiced
½ tsp sesame seeds
Salt to taste
Edamame: 
80g frozen edamame pods
1 tbsp Kikkoman Gluten Free Soy Sauce
For your bowl: 
2 handfuls of lettuce mix/salad mix
¼ cucumber, chopped
1 mango cheek, cut into small cubes
80g cooked rice
Optional: coriander, 1/8 avocado cut into small pieces, roasted seaweed, more sesame seeds
Kikkoman sauce used in this recipe

Naturally Brewed Gluten Free Soy Sauce
TOTAL TIME
25 min Serves
1 Cook time
15 min Prep time
10min
Salmon Poke Bowl
You have to try this great meal for summer – it's easy, quick, and a bomb of flavours! Marinating the salmon in soy sauce to taste, enhances the flavour in this dish without overpowering it.
Method
For the salmon, combine all the ingredients and let it marinate in the fridge for 15 minutes.
Preheat a non-stick pan, cook the edamame pods for 1-2 minutes until they start getting a little golden on the outside. Add the soy sauce and cook for another minute. Remove and set aside.
To assemble, place the 2 handfuls of lettuce/salad mix into a medium bowl (this forms the base). Top the salad mix with rice, the marinated salmon and edamame, cucumber, and mango. Garnish with fresh coriander, avocado, roasted seaweed and sesame seeds.
Key tip
You can make this meal completely plant based by substituting the salmon with tofu (you'll need to pan-fry or air fry it) or more edamame pods.
Print this recipe