Cooking at Home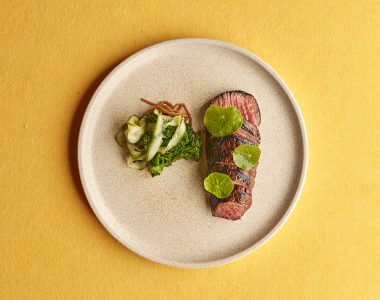 Ingredients
2 250g Wagyu Rump steaks
100ml Kikkoman Salt reduced Soy
2cm Piece of ginger
1 tsp Sesame oil
1 tbls Castor sugar
50g Soba noodles
1 Cucumber
1 Bunch Broccolini tips
10 Nasturtium leaves
Kikkoman sauce used in this recipe

Naturally Brewed Less Salt Soy Sauce
TOTAL TIME
3hrs 10mins Serves
2 Cook time
10mins Prep time
3hrs
Soy & Ginger Wagyu with Soba Noodle Salad
Method
Steak marinade
Finely chopped or grate the fresh ginger. mix with the Kikkoman salt reduced soy, sesame oil and sugar. Reserve some (appox 40ml) of this mix for your cucumber. Place the rest over your steaks and allow to marinade for 3-4 hrs.
Remove from the fridge and allow to come to room temp slightly prior to cooking.
Soba Noodle Salad
In salted boiling water, place in your soba noodles, cook through and strain and wash with cool water
Blanch your broccolini tips and set to the side.
Pickled Cucumber
Thinly slice your cucumber and top with the reserved soy mix, set aside.
Assembly
Char grill your steaks to your liking and set aside and rest.
Whilst you steaks are resting place your noodles and broccolini into a warm pan
with a little oil.
Warm slightly and toss together.
Slice your steaks and place on your plates, make a small nest of the noodles and broccolini next to this, drape over the noodles your pickled cucumber and then drizzle your steaks with any juices that are left over from them resting.
Top with Nasturtium leaves and serve.
Print this recipe
See how to make this dish