Cooking at Home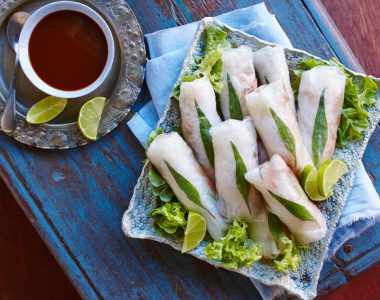 Ingredients
4 large skinless duck breasts
100ml Kikkoman Honey & Soy Marinade & Stir Fry Sauce
Wrap filling:
12 rice paper wraps (21cm)
50g rice vermicelli, softened as per pack instructions
1 carrot, peeled and finely grated
1/2 daikon, peeled and finely grated
1/2 continental cucumber, julienned
2 spring onions, julienned
12 Vietnamese mint leaves
Dipping sauce
2 tbsp Kikkoman Naturally Brewed Soy Sauce
80ml hoisin sauce
2 tbsp mirin
2 tbsp rice wine vinegar
Juice of 1/2 lime
Lime wedges to serve
Kikkoman sauce used in this recipe

Naturally Brewed Soy Sauce

Honey and Soy Marinade and Stir Fry Sauce
TOTAL TIME
50min Cook time
15min Prep time
35min
Duck Rice Paper Rolls with Asian Dipping Sauce
Method
Place duck breasts in a large zip lock bag. Add the marinade and seal. Leave to marinade in refrigerator for at least 30 minutes.
Remove the breasts from the bag and discard remaining marinade. Heat a large non-stick sauté pan over medium-low heat. Place the breasts in the pan and cook for 5-6 minutes then turn over to cook for a further 5-6 minutes or until the breasts are medium rare. Set aside and let rest for 7-10 minutes.
Meanwhile, make the dipping sauce by placing all of the sauce ingredients into a small bowl and whisk to combine. Set aside.
To assemble the rolls, thinly slice the duck breasts. Soak one wrap in warm water for about 10 seconds or until just starting to soften. Lay the wrap on a work surface and place a small handful of vermicelli in a row on the bottom third of the wrap. Top with carrot, daikon, cucumber, spring onions and 3 slices of duck.. Roll up from the bottom one time over then fold over the sides. Place a mint leaf on the wrap just above your first roll. Finish rolling to enclose the filling. Continue assembling rolls using all ingredients.
To serve, place oak leaf lettuce on a platter, top with rolls and serve with a bowl of the dipping sauce and lime wedges.
Print this recipe