Cooking at Home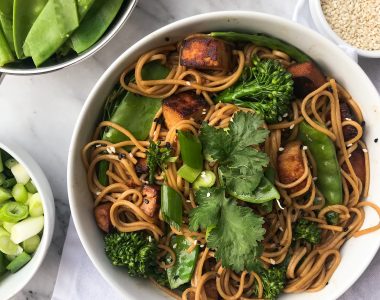 Ingredients
Ingredients:
2 bundles of Soba Noodles
1 block  of firm Tofu
150g snow peas
2 bunches of broccolini
sesame seeds (optional garnish)
spring onion (option garnish)
coriander (optional garnish)
MARINADE:
1/3 cup Kikkoman Less Salt Soy Sauce
2 tbs rice wine vinegar
3 TBS Sesame Oil
1 TBS Brown Sugar
1 TBS Freshly Grated Ginger
2 Cloves Garlic, Crushed
Kikkoman sauce used in this recipe

Naturally Brewed Less Salt Soy Sauce
TOTAL TIME
2hrs 20min Serves
4 Cook time
10 min Prep time
10min
Soy & Sesame Soba Noodles
This Sesame Soba Noodles recipe makes a simple Asian side dish or an easy main meal that's lower in salt and on the table in no time.
Method
Mix all marinade ingredients together into a large bowl
Cut 1 block of firm tofu into cubes and place into the marinade mixture and leave for a few hours in the fridge.
Once tofu has marinated, it will take on a brown colour from the soy sauce plus lock in a deep soy sauce flavour. Put the tofu into a fry pan and fry up until golden and crispy.
Cook soba noodles and steam your chosen veg (Erin used snow peas and broccolini)
Place all ingredients into a large saucepan or wok and cover with leftover marinade from the tofu. If the tofu has absorbed most of the marinade, we suggest making a double batch so there's plenty of marinade left to cover the whole dish when serving.
Recipe by @erinkitty_
Print this recipe