Cooking at Home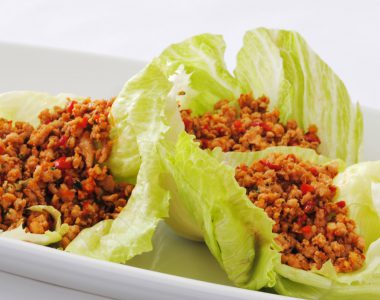 Ingredients
1 tablespoon (20mL) vegetable oil
1 onion, finely chopped
300g chicken mince
2 cloves garlic, minced
2 teaspoons fresh ginger, minced
1 red capsicum, seeds removed and finely chopped
2 teaspoons (10mL) fish sauce
1 tablespoon (20mL) Kikkoman Sweet Chilli, Ginger & Soy Marinade & Stir Fry Sauce*
2 tablespoons coriander, chopped
8 iceberg lettuce leaves, trimmed
Kikkoman sauce used in this recipe

Sweet Chilli, Ginger and Soy Marinade and Stir Fry Sauce
TOTAL TIME
40min Cook time
20min Prep time
20min
Sweet Chilli Chicken in Lettuce Cups
Method
Heat oil in a large fry pan or wok over high heat.
Add onion and cook until just soft, but not browned. Add the chicken mince, garlic and ginger and cook for about 5 minutes or until browned, breaking up lumps of mince with a fork.
Add the capsicum and cook for 3 minutes more, stirring frequently. Add the fish sauce, Sweet Chilli, Ginger & Soy marinade and the coriander.
To serve, spoon the chicken mixture into the lettuce cups, and place on a serving platter. Roll up lettuce to eat with your fingers.
Key tip
*Tip: You can substitute Sweet Chilli, Ginger & Soy marinade with Kikkoman Naturally Brewed Soy Sauce.
**Pork mince can be used as an alternative to Chicken mince.
Print this recipe