Cooking at Home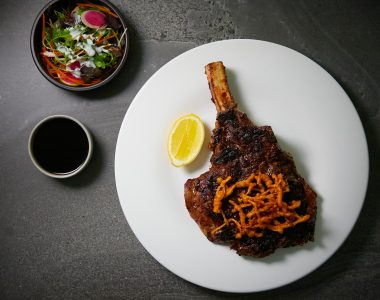 Ingredients
3 x 1.2kg MSA Grade OP ribs bone in (5cm thick)
Sea salt flakes
Extra virgin olive oil (dash)
1 lemon (wedges for serving)
120ml sherry vinegar or red wine vinegar
60ml Usukuchi Light Colour Soy Sauce
30ml fish sauce
5g brown sugar
2 garlic cloves (crushed)
Fried Enoki
1 litre vegetable oil
800g enoki mushrooms
300g tempura flour
400ml iced water
1/2 tsp sweet paprika powder
1/2 tsp garlic powder
Salad Dressing
20ml Kikkoman Naturally Brewed Soy Sauce
30g whole egg mayonnaise
60g Greek yoghurt
500g Petite Bouche Salad Mix
Kikkoman sauce used in this recipe

Naturally Brewed Soy Sauce

Usukuchi – Light Colour Soy Sauce
TOTAL TIME
40 mins Serves
10 Cook time
20-25 mins Prep time
15 mins
Fire Grilled Op Rib
The smoky flavour that can only be achieved on the grill makes these succulent ribs a sure fire hit, with a delicious salad that balances all the flavours as a side.
Method
Step 1
For the OP rib marinade, bring vinegar, Usukuchi Light Colour Soy Sauce, fish sauce, sugar, and garlic to a simmer in a small saucepan over medium heat. Gently simmer until reduced by half. Set aside to cool.
Step 2
Prepare the grill for high indirect heat.
Step 3
Season steak generously and grill over direct heat, turning every minute, until deeply browned on all sides for up to 6-8 minutes. (Grill the fat side to render the fat).
Step 4
Move the steak over the indirect heat and keep turning. Place a thermometer into the thickest part of the steak. Once it reaches 40°C, start basting with the marinade.
Step 5
Continue to grill, turning and basting with the marinade. Remove from the grill at 56-58°C for medium-rare and rest for about 10 minutes as the internal temperature will keep climbing to 60-62°C.
Step 6
Serve the steak with a side of the marinade.
Fried Enoki Mushrooms & Petite Bouche Salad
Step 1
Whisk together the tempura flour iced water, paprika powder and garlic powder until smooth.
Step 2
Heat the vegetable oil ready for frying. Cut off the bottom part of the enoki mushrooms and separate them into smaller bunches.
Step 3
Place the mushrooms into the tempura mixture and fry until golden brown and then place them on a paper towel to soak up the excess oil.
Garnish the steak with the fried mushrooms and a lemon wedge.
Step 4
For the dressing, mix the Kikkoman Naturally Brewed Soy Sauce, mayonnaise and Greek yoghurt together and dress the side salad.
Print this recipe
See how to make this dish