Cooking at Home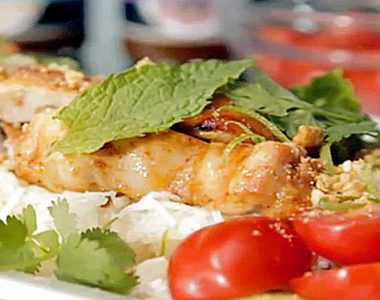 Ingredients
Coconut Rice
2 tbsp. vegetable oil
1 onion, finely chopped
1 cinnamon stick
100g shredded desiccated coconut
1 1/2 cups jasmine rice, well washed and soaked in cold water for 10 minutes.
2 cups chicken stock
Sweet Chilli, Ginger & Soy Chicken
8 free range, skinless, boneless chicken thighs
75ml Kikkoman Sweet Chilli, Ginger & Soy Marinade & Stir Fry Sauce, plus extra for serving
1 tbsp.vegetable oil
1 tbsp. roasted unsalted peanuts, roughly chopped
125g cherry tomatoes, halved
1/2 cucumber, peeled, split in half lengthways, seeded and cut into 2cm dice
Zest of 1 lime
Mint and coriander leaves to garnish
Kikkoman sauce used in this recipe

Sweet Chilli, Ginger and Soy Marinade and Stir Fry Sauce
TOTAL TIME
45min Cook time
30min Prep time
15min
Sweet Chilli, Ginger & Soy Chicken on Coconut Rice
This meal comes alive with the fantastic flavours of sweet chilli, ginger, coriander and mint, plus the richness of coconut rice. Using chicken thighs in this dish means the chicken is extra-tasty and remains moist as it cooks.
Method
Step 1.
For the coconut rice:heat the oil over a moderate heat and add the onion, cinnamon stick and coconut. Gently fry until the onion is soft. Add the drained rice and stock, mix well and bring to the boil.
Step 2.
Turn the heat down to the lowest setting, put the lid on tightly and cook for 20 minutes without uncovering. Remove from the heat and set aside without uncovering for 5 minutes. Uncover and fluff up with a fork.
Step 3.
For the sweet chilli, ginger & soy chicken:preheat the oven to 200degC.
Step 4.
Put the chicken and marinade into a bowl and mix well. Marinate for 20 minutes, or overnight.
Step 5.
Pour the oil over the bottom of a roasting pan. Add the chicken thighs into the pan and place in the oven and for 15-20 minutes until cooked through. Remove from the oven and slice each thigh in half lengthways.
Step 6.
Serve the chicken on the coconut rice with the peanuts, mint, coriander, tomatoes, cucumber and zest sprinkled on top.
Step 7.
Serve a small bowl of Kikkoman Sweet Chilli, Ginger & Soy Marinade & Sauce on the side for dipping.
Print this recipe
See how to make this dish