Cooking at Home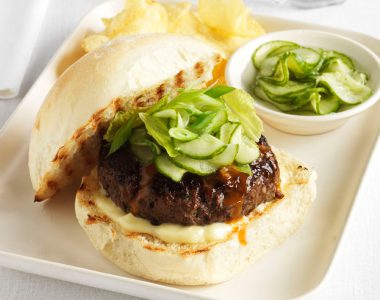 Ingredients
800gm coarsely minced beef
40ml Kikkoman Naturally Brewed Soy Sauce
2 spring onions, thinly sliced, plus extra to serve
1 garlic clove, finely chopped
1 egg yolk
20ml vegetable oil
100ml Kikkoman Teriyaki Marinade & Stir Fry Sauce
4 burger buns, halved, cut-sides toasted
Coarsely torn baby cos lettuce leaves, mayonnaise and Sriracha to serve
Ginger Cucumber Pickles
120ml rice vinegar
40g caster sugar
2 tsp. finely grated ginger
2 Lebanese cucumbers, thinly sliced on a mandolin into rounds
Kikkoman sauce used in this recipe

Naturally Brewed Soy Sauce
TOTAL TIME
1hr 10min Cook time
20min Prep time
50min
Teriyaki Glazed Beef Burgers
Method
Combine beef, Kikkoman Soy Sauce, spring onion, garlic and egg yolk in a bowl, season to taste and mix with your hands to combine well.
Form into 4 even patties, flattening in the centre, then refrigerate to rest (30 minutes).
In a saucepan, reduce down the 100ml Kikkoman Teriyaki Sauce by half.
Make the quick ginger cucumber pickles. Drain before using.
Heat oil in a large frying pan over medium-high heat or pre-heat a BBQ flat plate and brush with oil, add burger patties and cook until browned (1-2 minutes).
Turn and cook brushing generously with the reduced Kikkoman Teriyaki sauce until just cooked through and glazed (1-2 minutes).
To serve, spread burger bun bases with mayonnaise to taste, top each with a burger patty, then sriracha, cucumber pickles, extra spring onions and lettuce, sandwich with bun tops and serve hot.
For quick ginger cucumber pickles, stir vinegar, sugar, ginger and 50ml water in a saucepan over medium-high heat until sugar dissolves, bring to the boil; add cucumber and stir to combine.
Transfer to a container and refrigerate until chilled.
Drain before using.
Print this recipe