Cooking at Home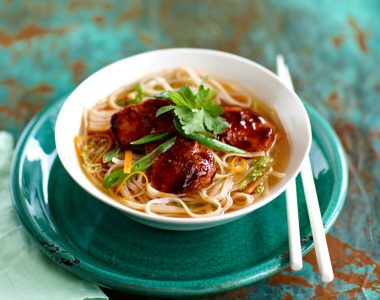 Ingredients
500g (4) pork medallion steaks
1 cup (250mL) Kikkoman Sweet Chilli, Ginger & Soy Marinade & Stir Fry Sauce
200g dried rice stick noodles
8 cups (2L) salt reduced chicken stock
5cm piece ginger, thinly sliced
2 cloves garlic, thinly sliced
2 tablespoons (40mL) fish sauce
2 carrots, cut into matchsticks
150g green beans, cut into 3cm lengths
150g chinese cabbage, shredded
1 tablespoon vegetable oil
Sliced spring (green) onions, mint and
Coriander leaves, to serve
Kikkoman sauce used in this recipe

Sweet Chilli, Ginger and Soy Marinade and Stir Fry Sauce
TOTAL TIME
2hrs 40min Cook time
20min Prep time
2hrs 20min
Sweet Chilli Pork in Noodle Broth
Method
Place pork in a flat non-metallic dish. Add half the Sweet Chilli Marinade, and coat well.
Cover and refrigerate for 2 hours.
Cook noodles according to instructions on pack.
Combine next 4 ingredients and remaining Sweet Chilli Sauce in a large saucepan over moderate heat. Bring stock mixture to the boil. Reduce heat and simmer for 5 minutes. Add carrot and beans and simmer for 2 more minutes. Remove from heat. Stir in cabbage.
Drain marinade from pork. Discard marinade.
Heat the vegetable oil in a large fry pan over moderate heat. Add pork, cooking for about 3 minutes each side until cooked.
Transfer pork to a carving board and thinly slice.
Divide noodles among 4 serving bowls and ladle hot stock over noodles. Top each bowl with pork, onions, mint, and coriander. Serve extra Sweet Chilli, Ginger & Soy Marinade in small bowls as a dipping sauce.
Print this recipe