Cooking at Home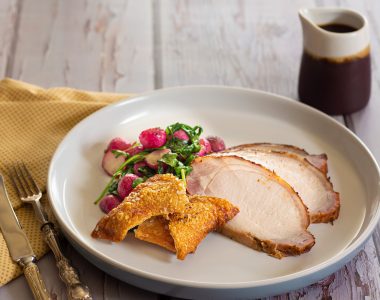 Ingredients
2kg pork loin, pork fat/rind scored and removed and kept aside
1 tbsp olive oil
100ml hot chicken stock
1 tbsp wholegrain mustard
1 tbsp honey
1 tsp finely chopped thyme leaves
pork rind from above
2 teaspoons sea salt
60ml Kikkoman soy sauce
60 ml of salt
2 bunches radish, cut into quarters
1 bag of rocket lettuce
20 g butter
SOY HONEY BUTTER GRAVY
15g salted butter
1 tablespoon plain flour
250ml low salt chicken liquid stock
60 ml Kikkoman soy sauce
2 teaspoons lemon juice
5 sprigs fresh thyme, plus extra leaves, to serve
1 1/2 tablespoons honey
Kikkoman sauce used in this recipe

Naturally Brewed Soy Sauce
TOTAL TIME
3hrs Serves
4 - 6 Cook time
2hrs 30min Prep time
30min
Crispy Roast Pork with Soy Crackling
Method
For the crackliest skin, place the pork rind on a wire rack above the sink. Carefully pour boiling water all over the pork rind. Drain well and pat dry with a paper towel. Place rind side up, on a plate. Sprinkle with half the salt. Place in the fridge overnight to dry out.
Heat oven to 240C Pat the pork all over with kitchen paper. Lightly rub all over with oil and sprinkle liberally with salt. Do the same with the pork rind. Cook for 30 mins, turn down the oven to 190C, remove crackling but continue the pork then cook for 30 mins per 500g (approx. about 2 hrs). Brush crackling with soy sauce all over and place back in the oven to dry out completely. The rind might finish before the roast so take out and allow to cool.
When the roast has finished cooking, remove the roast from the tray keep roasting tray, place pork roast on a serving plate and loosely cover with foil.
Add stock and soy sauce to the roasting tray, then deglaze the pan with the liquid. Strain the liquid through a sieve into a small pan. Add mustard, honey and thyme, and stir and place on the stovetop. Simmer and reduce for 8 mins or until starting to turn thick and syrupy.
Brush soy liquid all over roast pork and recover with foil.
In a frypan sauté radishes with butter until golden brown at the last minute sauté radish with the rocket lettuce until it wilts. Set aside.
Meanwhile, to make the honey butter gravy, melt the butter in a non-stick saucepan over medium heat until foamy. Add the flour and cook, stirring, for 1 minute or until foaming. Remove from the heat and gradually stir in the stock, soy sauce, lemon juice and thyme. Return to medium heat and cook, stirring constantly, for 10-12 minutes or until the gravy boils and thickens. Add the honey and stir until combined. Season. Place in the gravy boat.
Slice roast pork and serve with the crackling and sautéed radish and rocket. Serve with the gravy boat. Enjoy.
Print this recipe