Cooking at Home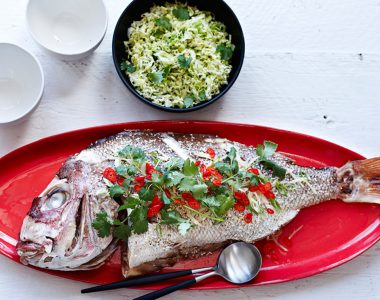 Ingredients
1.8-2kg whole snapper, scaled and cleaned
2 tablespoons (40mL) vegetable oil
Ground white pepper, to taste
2 tablespoons sesame seeds
3 spring (green) onions, sliced diagonally, to serve
Chinese Cabbage Salad, to serve
Sauce:
3cm piece of fresh ginger, peeled then cut into wafer-thin strips
1 mild red chilli, thinly sliced
80mL (1/3rd. cup) Kikkoman Naturally Brewed Soy Sauce
1 tablespoon (20mL) rice or white wine vinegar
2 tablespoons (40mL) water
Chinese cabbage Salad:
½ Chinese cabbage
2 tablespoons sugar
2 tablespoons (40mL) fish sauce
3 tablespoons (60mL) fresh lime juice
1 tablespoon (20mL) rice vinegar
½ cup chopped mint
½ cup chopped coriander
Kikkoman sauce used in this recipe

Naturally Brewed Soy Sauce
TOTAL TIME
1hr 25min Cook time
55min Prep time
30min
Oven-baked Snapper with Asian Flavours and Chinese Cabbage Salad
Method
Preheat oven to 180 deg. C.
Line a roasting pan with baking paper and brush with 1 tablespoon of the oil.
Make 3 slashes in the thickest part of the fish flesh.
Place fish in the pan and brush with remaining oil.  Season with the pepper and sprinkle with the sesame seeds.  Place in the oven and bake for about 55 minutes, or until the fish is cooked through and the flesh flakes easily with a fork.
Meanwhile, for the sauce, place the ginger, chilli, Kikkoman Soy Sauce, vinegar and the water in a saucepan.  Heat over low heat until the ginger and chilli have softened slightly.  Place the fish on a large serving platter and pour the sauce over the top.
Garnish with the Spring onions. Serve the Chinese cabbage salad separately.
To make the dressing, place the sugar, fish sauce, lime juice and rice vinegar in a small glass screw-top jar and shake well to dissolve the sugar.   Just before serving pour the dressing over the cabbage, add the mint and coriander and toss gently to combine.
Key tip
Note: cooking time may vary according to the weight of the fish.
Note: as this fish is served whole, be careful of bones.
Print this recipe