Cooking at Home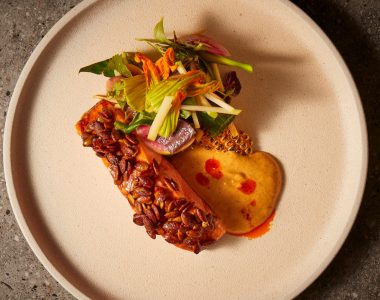 Ingredients
100g raw pepitas
2 tsp canola oil
2 x 160gm pieces of Ora king Salmon
50ml Naturally Brewed Less Salt Soy Sauce
100ml Teriyaki Marinade & Stir Fry Sauce
Laksa Sauce
2 tbsp laksa paste
1 cup of coconut cream
1 tsp fish sauce
1 tbsp water
1tbsp canola oil
Asian Summer
50g Shizo
100g Purslane
1 Pickled onion (sliced)
1 Apple (sliced)
1 Water melon radish (sliced)
4 Raw zucchini flowers
1 Baby cucumber (sliced)
50ml Yuzu juice
Kikkoman sauce used in this recipe

Naturally Brewed Less Salt Soy Sauce

Teriyaki Marinade & Stir Fry Sauce
TOTAL TIME
30min Serves
2 - 4 Cook time
10min Prep time
20min
Sticky Soy & Pepita Crusted Ora King Salmon
A laksa-coconut sauce complements the flavours of this Asian-inspired seafood salad. This delicious dish makes a fabulous summer dinner.
Method
For Pepitas: Pre-heat oven to 180°C and line a tray with baking paper. In a small bowl, combine soy sauce, raw pepitas and mix. Spread out on a tray and bake for 4-6 mins until lightly cooked.
Take out and leave to one side to cool and lightly crush them.
Glaze the salmon with the teriyaki sauce and top the non-skin side with the cooked pepitas until covered. In a non-stick ovenproof pan place on medium heat skin side down and cook for a further 8-10 minutes.
For laksa sauce: In a small pot place a splash of canola oil and laksa paste heat for 20 sec, then add water, coconut cream and fish sauce. Stir and simmer for a few minutes until combined.
To plate: Carefully take the salmon out of the pan and place on the plate with a serving of the laksa sauce.
For the salad: Mix the salad ingredients in a bowl with Yuzu citrus juice and lightly toss and serve alongside the salmon.
Print this recipe
See how to make this dish