Cooking at Home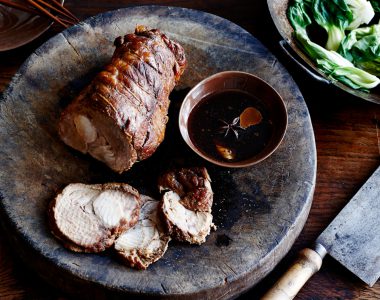 Ingredients
1.2kg pork neck, tied at 2cm intervals with kitchen string (your butcher will do this for you)
1 kg chuck steak, cut into 4 cm cubes
1/2 teaspoon five spice powder
2 tablespoons (40mL) vegetable oil
1 cup (250mL) Kikkoman Naturally Brewed Soy Sauce
1/3 cup (90g) palm sugar, chopped
1 cup Chinese rice wine
5cm piece ginger, sliced
2 cinnamon sticks
2 star anise
4 cloves garlic, crushed
1 cup water
2 extra tablespoons (40mL) vegetable oil
2 bunches baby bok choy, leaves separated
2 bunches choy sum, trimmed
Steamed jasmine rice, to serve
Lime wedges, to serve
Kikkoman sauce used in this recipe

Naturally Brewed Soy Sauce
TOTAL TIME
2hrs 20min Cook time
2hrs Prep time
20min
Oven Braised Pork Neck with Stir Fried Asian Greens
Method
Pre-heat oven to 160 deg. C.
Rub five spice powder over pork. Heat vegetable oil in a large non-stick fry pan and brown pork all over. Then place the pork in an oven-proof casserole dish.
Combine Kikkoman soy sauce, palm sugar, rice wine, ginger, cinnamon sticks, star anise, garlic and water in a separate saucepan. Bring to the boil then pour over pork.
Cover, and place in oven. Cook for 2- 2 1/4 hours or until tender, turning occasionally.
Remove pork from pan, rest in a warm place for about 10 minutes, reserving cooking liquid.
Meanwhile, in a large wok, heat the remaining 2 tablespoons vegetable oil, add vegetables and stir fry over high heat until just beginning to wilt. Add 1/2 cup of pork cooking liquid and stir until heated through.
To serve: spoon rice onto individual serving plates, place vegetables on rice, then top with thinly sliced pork. Spoon vegetable juices over.
Print this recipe