Cooking at Home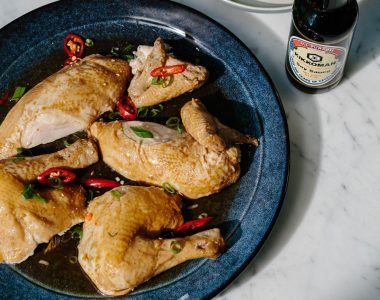 Ingredients
1 whole free-range chicken (about 1.4kg), at room temperature
2 teaspoons rice bran oil
3cm ginger, finely sliced
3 cloves garlic, finely sliced
3 spring onions, chopped into 4cm pieces
4 star anise
3 cinnamon sticks
1 ½ cups (375ml) shaoxing wine
1 bottle (250ml) Kikkoman's Soy Sauce
⅓ cup white sugar
2 teaspoons salt
4-6 cups of chicken stock (depending how much you need to cover your chicken)
To serve:
Steamed Asian greens (like bok choy, pak choy, gai lan)
Cooked white rice
1 long red chilli, finely sliced
Radish pickles
Kikkoman sauce used in this recipe

Naturally Brewed Soy Sauce
TOTAL TIME
1hr Serves
6 Cook time
45mins Prep time
5mins
Soy Poached Whole Chicken
Whole chicken braised in a chinese-style flavoursome broth with a strong aromatic taste and creates a tender and delicious result. Re-create this Cantonese classic comfort dish at home with Kikkoman Soy Sauce.
Method
Heat the oil in a 4 litre saucepan, which is only just big enough to hold the chicken. Add in the rice bran oil, garlic, ginger, star anise and cinnamon sticks. Cook, tossing for 2-3 minutes until the garlic and ginger are golden and fragrant. Add in the spring onion, shaoxing wine, chicken stock, white sugar, salt, and the Kikkoman's Soy Sauce. Bring to the boil, then reduce to a simmer for 20 minutes.
Add the chicken to the stock, breast side up and bring to the boil again and cook for 20 minutes. Remove from the stove top, place on the lid, and allow the chicken finish cooking and cool slightly in the stock for 1 hr.
Remove the chicken from the stock and slice into pieces. Strain the stock, discarding the solids, and drizzle over the chicken. Serve alongside steamed Asian greens, rice, chilli slices and pickles.
Print this recipe
See how to make this dish