Cooking at Home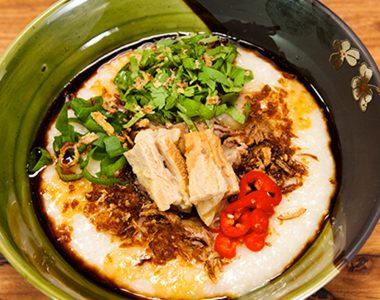 Ingredients
1/2 cup medium grain white rice, soaked
3 cups of water (add more if you want your congee to be thinner)
10 inches worth of spare ribs (approximate), lightly marinated in salt.
1 garlic bunch, halved
2 stalks celery, roughly chopped
1 stalk lemongrass, roughly chopped
1 carrot, roughly chopped
1 onion, roughly chopped
Salt and pepper
Condiments
4 stalks green onions, sliced thinly
1 red chilli
Coriander
Kikkoman Naturally Brewed Soy Sauce, to taste
Dash of sesame oil
Dash of pepper
Kikkoman sauce used in this recipe

Naturally Brewed Soy Sauce
TOTAL TIME
4hrs 10min Cook time
4hrs Prep time
10min
Spare Rib Congee
Method
Soak the rice for about 1 hour at least in order for the rice to expand; hence the congee will have a smoother texture.
Place the lightly salted ribs in a pot with all the roughly chopped vegetables, cover with water, season and bring to the boil. Once it reaches boiling point, turn the heat to low and allow to simmer for 2-4 hours.
Meanwhile, In another pot, place the soaked rice and add 5 cups of stock.
Stir the congee periodically to ensure that it does not boil over. Boil for about 1.5 hours on a low heat. Add more stock for a thinner consistency, if desired.
Ladle into individual serving bowls and add the condiments listed above to taste. It is customary to place all the condiments at the table for individuals to add the condiments to his/ her tastes. For a more fragrant bowl of congee, you can also opt to roast the spare ribs before boiling with the rice.
Print this recipe
See how to make this dish