Cooking at Home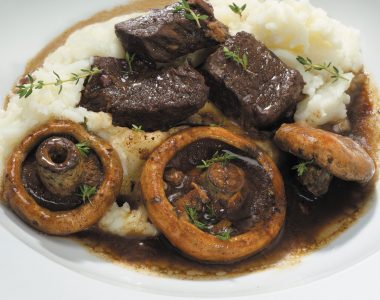 Ingredients
1kg chuck or blade steak, cubed.
1/2 cup Kikkoman Naturally Brewed Soy Sauce
1/4 cup white wine
1/4 cup chicken stock
3 tablespoons olive oil
4 rashers rindless bacon, sliced
8 small onions
1 clove garlic, crushed
1 cup red wine
1 1/2 cups beef stock
1 bay leaf
200g whole small field mushrooms
1 tablespoon thyme leaves
Kikkoman sauce used in this recipe

Naturally Brewed Soy Sauce
TOTAL TIME
4hr 25mins Cook time
3hrs Prep time
1hr 25mins
Slow Cooked Beef with Red Wine and Mushrooms
Method
Combine Kikkoman Naturally Brewed Soy Sauce, white wine and chicken stock. Place beef in a non-metallic flat dish and pour marinade mixture over. Cover and refrigerate for 1 hour.
Meanwhile, pre-heat oven to 180 deg. C. Heat 2 tablespoons of the oil in a heat-proof casserole dish, brown bacon and set aside. Add remaining oil, onions and garlic and cook until golden. Set aside.
Remove beef from marinade and drain well.
Place beef in casserole and brown on all sides. Return the bacon, onions, garlic, red wine and stock. Press baking paper over the dish and cover tightly with a lid.
Cook for 2 hours in oven without opening lid. Check for seasoning and tenderness, stir in mushrooms and thyme and cook for another 20 minutes.
Serve with mashed potatoes and garnish with thyme leaves.
Key tip
This dish is even better if made the day before. It can also be frozen.
Print this recipe