Cooking at Home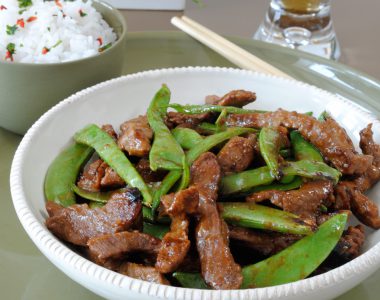 Ingredients
500g beef stir fry strips
4 cloves garlic, crushed
2 teaspoons freshly grated ginger
2 tablespoons (40mL) sesame oil
¼ cup (60mL) Kikkoman Honey & Soy Marinade & Stir Fry Sauce*
2 tablespoons (40mL) vegetable oil
200g snow peas, halved lengthwise
200g sugar snap peas, whole
4 Spring (green) onions, finely sliced (optional)
1 small red chilli, sliced (optional)
Kikkoman sauce used in this recipe

Honey and Soy Marinade and Stir Fry Sauce
TOTAL TIME
50min Cook time
15min Prep time
35min
Honey & Soy Stir Fry Beef with Beans
Method
Combine beef strips, garlic, ginger, sesame oil and Honey & Soy Marinade in a flat non-metallic bowl and marinate for 20 minutes (longer for a deeper flavour).
Drain beef, reserving marinade.
Heat wok over medium-high and add vegetable oil. Stir fry beef until browned, taking care not to overcook. Add both lots of peas and stir fry for 1-2 minutes. (They should still be crisp).
Pour reserved marinade over the beef mixture and toss to combine. Place in a large serving bowl, or individual bowls. Top with Spring onions and chilli if desired.
Key tip
VARIATION: Substitute lamb or chicken.
VARIATION: Can use Teriyaki Marinade and stir fry sauce.
Print this recipe