Cooking at Home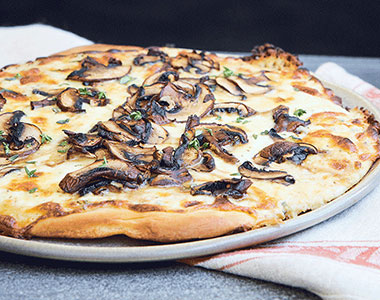 Ingredients
2 cups thinly sliced button mushrooms
2 tbsp soy sauce
2 large pizza bases
2-3 cups mozzarella cheese
White sauce
½ cup sour cream
½ cup thickened cream
2 cloves garlic, crushed
3 tbsp grated parmesan
¼ tsp black pepper, plus extra to serve
6 thyme sprigs, leaves stripped, plus extra to serve
Kikkoman sauce used in this recipe

Naturally Brewed Soy Sauce
TOTAL TIME
30mins Serves
2 Cook time
15mins Prep time
15mins
Soy-Marinated Mushroom Pizza
Method
Combine the mushrooms and the soy sauce and set aside for 10 minutes.
For the white sauce, combine the ingredients and mix well.
Heat your oven to 220°C. Spread the sauce over the base of the pizza and scatter with cheese. Scatter the mushrooms on top, and bake the pizza for about 10-15 minutes until cooked through and the cheese is bubbling. Top with a little fresh thyme and some more black pepper to serve.
Print this recipe
See how to make this dish