Cooking at Home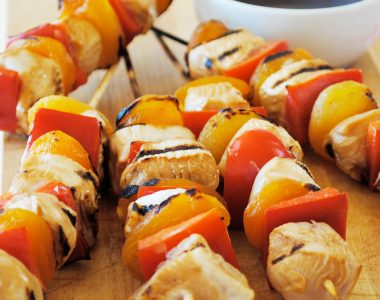 Ingredients
5 single chicken breasts fillets, cut into 2.5cm cubes
1/2 cup Kikkoman Honey Soy Marinade and Stir Fry Sauce
2 cups dried apricots
2 red capsicum, cut into 2.5 cm squares
Extra Kikkoman Honey Soy Marinade and Stir Fry Sauce
Kikkoman sauce used in this recipe

Honey and Soy Marinade and Stir Fry Sauce
TOTAL TIME
1hr 45mins Cook time
25mins Prep time
1hr 20mins
Barbecue Chicken & Apricot Skewers
Method
Place chicken in a flat non-metallic dish. Pour over Honey Soy Marinade, place in refrigerator and marinate for 1 hour, turning once.
Remove chicken from marinade and pat dry with paper towels to prevent burning. Discard marinade.
Thread chicken, apricots and capsicum alternately on 1 skewer. Repeat to make 12 skewers. Preheat barbecue grill on medium heat. Cook skewers for about 3-4 minutes each side or until chicken is cooked through, basting from time to time with the extra marinade.
Serve immediately.
Note: do not baste the chicken with the sauce it was marinated in. Raw chicken can contain harmful bacteria.
Key tip
As an alternative, you can marinate the chicken in Kikkoman Teriyaki Marinade & Stir Fry Sauce, Or Kikkoman Japanese BBQ marinade & Stir Fry Sauce.
Print this recipe