Cooking at Home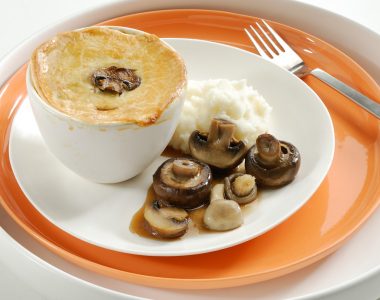 Ingredients
4 lamb shanks
2 tablespoons (40mL) olive oil
Cracked black pepper
1 brown onion, diced
4 cloves garlic, crushed
2 tablespoons Kikkoman Naturally Brewed Less Salt Soy Sauce
1 cup red wine
750mL salt-reduced beef stock
2 tablespoons sun-dried tomato paste
Store-bought puff pastry
1 egg, lightly beaten
Mushroom Sauce
2 tablespoons olive oil
300g mixed mushrooms, sliced
1 tablespoon Kikkoman Less Salt Soy Sauce
1/4 cup salt-reduced beef stock
Kikkoman sauce used in this recipe

Naturally Brewed Less Salt Soy Sauce
TOTAL TIME
3hrs 5mins Cook time
2hrs 45mins Prep time
20mins
Mini Lamb Pot Pies
Method
Preheat oven to 180 deg.C. Rub lamb shanks with 2 tablespoons oil, sprinkle with pepper and sear in a non-stick fry pan 1-2 minutes each side until well browned on all sides, but not burnt. Remove from pan and set aside.
Place onion and garlic in an oven proof pan and cook until soft. Stir in the Soy Sauce, wine, stock and tomato paste. Return shanks to pan, cover and place in oven for 2 hours, or until very tender.
Remove from oven, cool and shred meat from bones. Return meat to sauce.
Cut 4 rounds of pastry slightly larger than the 1-cup capacity pots you intend cooking the pies in, leaving enough to overhang the sides.
Lightly oil the pots. Spoon in lamb mixture, cover top with the pastry rounds, trim edges and press to seal. Cut a small slit in the top of each pie, brush with the egg, and cook 35-40 minutes or until pastry is crisp and golden.
For the mushroom sauce, heat the oil in a pan and then add the sliced mushrooms, the Less Salt Soy Sauce and the beef stock and cook 4 minutes or until mushrooms are soft.
Serve with creamy mashed potatoes.
Print this recipe