Cooking at Home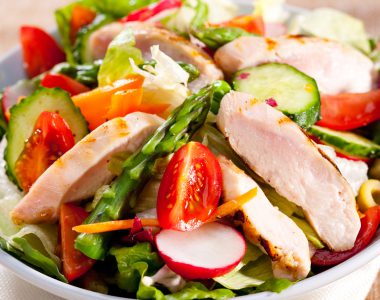 Ingredients
850g chicken tenderloins
1 garlic clove, finely chopped
1 tbsp (20ml) Kikkoman Less Salt Soy Sauce
1 tbsp (20ml) Kikkoman Sweet Chilli, Ginger & Soy Marinade & Stir Fry Sauce
Olive oil spray
2 cups mixed salad leaves
2 small tomatoes, cut into wedges
1 small radish, thinly sliced
2 small Lebanese cucumbers, thinly sliced
1/4 cup each coriander and mint leaves
1/2 fresh lime, to serve
Kikkoman sauce used in this recipe

Naturally Brewed Less Salt Soy Sauce

Sweet Chilli, Ginger and Soy Marinade and Stir Fry Sauce
TOTAL TIME
1hr 25min Cook time
10min Prep time
1hr 15min
Sweet Chilli Chicken Salad
Method
Combine chicken, garlic, soy and sweet chilli marinade in a flat non-metallic dish. Marinate in fridge for 1 hour, turning once (marinate longer for a richer flavour).
Preheat a large frypan over medium heat. Remove chicken from dish and pat dry with paper towels to help prevent burning. Spray chicken with olive oil, and cook for 3 minutes each side until cooked through. Cut into thick slices.
Combine the salad leaves in a salad bowl with the tomatoes, radish, cucumbers, herbs and chicken. Toss gently. Squeeze lime juice over salad and serve immediately.
Print this recipe