Cooking at Home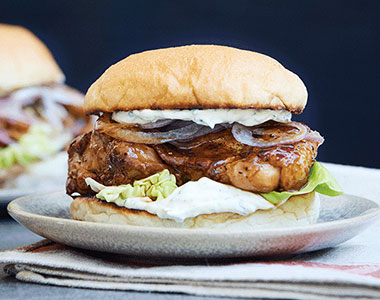 Ingredients
1 tsp vegetable oil
4 skin-on chicken thigh fillets
¼ cup Kikkoman salt-reduced soy sauce
1 tsp freshly ground black pepper
2 tbsp brown sugar
4 burger buns
1 tbsp melted butter
4 leaves butter lettuce
1 red onion, very thinly sliced (soaking in iced water)
Sour cream burger sauce
¾ cup sour cream
2 tbsp mayonnaise
1 tsp Dijon mustard
1 tbsp finely chopped chives
1 tbsp finely chopped dill
1 tbsp finely chopped parsley
Kikkoman sauce used in this recipe

Naturally Brewed Less Salt Soy Sauce
TOTAL TIME
30mins Serves
4 Cook time
15mins Prep time
15mins
Soy-Glazed Chicken Burgers with Sour Cream & Onion
Method
Heat a large frying pan over medium heat and add the oil and thigh fillets, skin side down. Cook, turning frequently for about 5 minutes until well browned and nearly cooked through. Add the soy sauce, brown sugar and black pepper and turn the chicken thighs through the sauce until well coated and sticky.
For the sour cream burger sauce, combine all the ingredients and mix well.
Toast the buns and brush with a little melted butter. Spread the buns with a little of the sauce, top with the red onion and lettuce, and a piece of chicken.
Print this recipe
See how to make this dish