Cooking at Home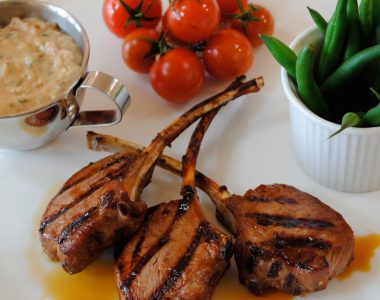 Ingredients
8 lamb cutlets, trimmed
125g snow pea shoots, coarse stems removed
1/2 cup Kikkoman Teriyaki Marinade & Sauce
8 truss tomatoes
Vegetable or olive oil
Kikkoman sauce used in this recipe

Teriyaki Marinade & Stir Fry Sauce
TOTAL TIME
1hr 15min Cook time
10min Prep time
1hr 5min
Spring Lamb Cutlets, Beans & Baby Tomatoes
Method
Place lamb in a flat, non-metallic dish, pour marinade over, cover and refrigerate for 1 hour, turning once.
To cook the lamb, heat a grill or barbecue to high heat. Remove the lamb from the marinade, reserving the marinade for basting. Grill or barbecue lamb for 3-4 minutes each side or until cooked to your liking, basting regularly with the reserved marinade.
At the same time, coat the tomatoes with a little vegetable oil, place on grill or hotplate, and cook until just starting to soften, turning regularly.
Place lamb and tomatoes on individual serving plates and serve with French beans.
Print this recipe