Cooking at Home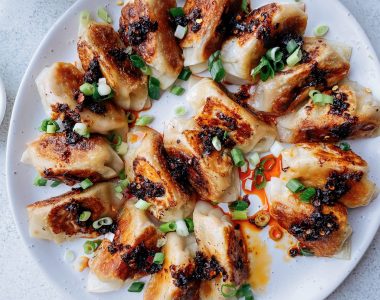 Ingredients
Filling
2 stalks spring onion, chopped (45g)
1 carrot (100g)
1/4 head of Wombok Cabbage (340g)
100g firm tofu
1 tbsp cooking oil
1 tbsp pure sesame oil
1 tbsp Kikkoman Soy Sauce
1/4 tsp white pepper
Other
20-30 dumpling wrappers
Oil, for cooking
¾ cup water
chilli oil to serve, optional
chopped spring onions to serve, optional
Kikkoman sauce used in this recipe

Naturally Brewed Soy Sauce
TOTAL TIME
55min Serves
20-30 Cook time
15min Prep time
40min
Simple Delicious Veggie Dumplings
These veggie dumplings are seriously good! When you have good quality soy sauce you don't need much else to season your dumplings. Serve with a little dipping sauce with some freshly diced ginger and Kikkoman Soy Sauce and you'll be in dumpling heaven. This recipe is vegan-friendly!
Method
Start by roughly chopping the cabbage and putting into a food processor. Process until finely chopped. Using your hands or a nut-milk bag, squeeze as much water out of the cabbage as possible and discard liquid.
Transfer cabbage into a mixing bowl.
Process the carrot and tofu in your food-processor until finely chopped. If you want more texture in your dumplings, you can grate the carrot by hand. Fold carrot and tofu in with the cabbage.
Heat 1 tbsp oil on low/medium heat. Add spring onions and stir, frying until shiny (about 30 seconds-1 min). Add the cabbage, carrot and tofu mix, Kikkoman Soy Sauce and white pepper. Stir for 3-5 minutes until the mixture wilts slightly then stir in the sesame oil. Remove from heat, transfer
mixture into a large plate and allow to cool the mixture to cool completely before wrapping!
To wrap, hold the wrapper flat on one hand. Keep a little bowl of water near by and use your finger to rub the edges of the wrapper with water. Place 2-3 tsp mixture in the centre of your wrap. Fold the dough in hald to create a half moon shape and press edges together to seal tightly.
To cook, heat a little vegetable oil in a large non-stick fry pan over medium heat. Add dumplings in a single layer. Cook until bottoms begin to brown, about 30 seconds-1min. Add 3/4cup water, cover and cook for 4 minutes; uncover and cook until the liquid has evaporated completely and
the bottoms are crisp and golden brown, about 2 more minutes.
Drizzle with chilli oil and spring onions and serve.
Recipe by @itslizmiu
Print this recipe