Cooking at Home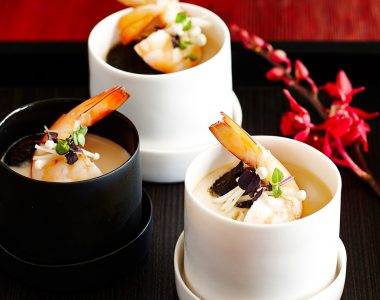 Ingredients
4 dried shiitake mushrooms
4 small cooked prawns
2 tablespoons (40mL) Kikkoman Naturally Brewed Soy Sauce
1 tablespoon sugar or 1 tablespoon mirin
4 eggs
2 1/2 cups (625mL) dashi stock* or chicken stock
2 tablespoons (40mL) sake or dry sherry
4 extra small cooked prawns, to garnish
Enoki mushrooms, to garnish (optional)
Micro herbs, to garnish (optional)
Finely sliced spring (green) onions, to garnish
Kikkoman sauce used in this recipe

Naturally Brewed Soy Sauce
TOTAL TIME
1hr 10min Cook time
30min Prep time
40min
Japanese-Style Savoury Custards
Method
Preheat oven to 180 deg. C. Soak mushrooms in about 3 tablespoons hot water for 30 minutes until soft. Meanwhile, shell and de-vein the prawns. Remove mushrooms from soaking liquid, reserving the liquid. Cut off tough stems and discard.
Simmer the mushroom caps in a small saucepan with the soy sauce, a little of the reserved soaking liquid and the sugar for 10 minutes.
Place one mushroom and one prawn into each of 4 x 200mL oven-proof ramekins or pots.
To make the custard, gently whisk the eggs. Add the dashi or chicken stock, soy sauce, sake or dry sherry, removing any bubbles in the mixture. Fill the pots with the custard mixture, and cover each pot with foil, making sure it is sealed.
Place pots in a baking pan with hot water to come half-way up the side of the pots. Place in pre-heated oven and cook for 25-30 minutes until just set.
Remove from oven and allow cooling to room temperature. Top each custard with a prawn, a few enoki mushrooms and micro herbs, if using, and spring onions.
Print this recipe