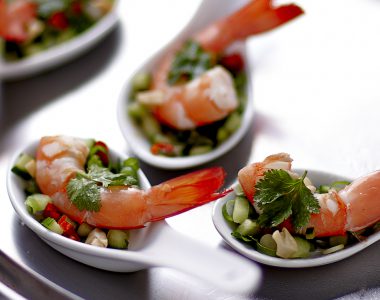 Ingredients
For the Salad:
1 Lebanese cucumber, halved, seeded and finely diced
2 spring (green) onions, thinly sliced
1/2 cup Chinese cabbage, finely shredded
1 long mild red chilli, seeded and finely chopped
1 tablespoon fresh coriander, finely chopped
Coconut Dressing
2 tablespoons (40mL) coconut cream
2 tablespoons (40mL) lime juice
1 tablespoon (20mL) Kikkoman Less Salt Soy Sauce
2 teaspoons (10mL) fish sauce
2 teaspoons sugar
To serve
24 small cooked prawns, shelled
2 tablespoons roasted peanuts, roughly chopped
Lime wedges
Extra coriander leaves (chopped)
Kikkoman sauce used in this recipe

Naturally Brewed Less Salt Soy Sauce
TOTAL TIME
25min Prep time
25min
Mini Thai Prawn Salads with Coconut Dressing
Method
To make the dressing, place coconut cream, lime juice, Less Salt Soy Sauce, fish sauce and sugar in a small bowl. Whisk to combine. Set aside.
To prepare the mini salad, combine cucumber, green onions, chilli and coriander in a bowl. Just before serving, add dressing to cucumber mixture and stir gently to combine.
To serve, place 2 teaspoons salad mixture in each spoon. Top with 1 prawn. Sprinkle with peanuts, and top with extra coriander leaves. Serve with lime wedges.
Key tip
*Dressing can be made the day before and refrigerated until needed.
**Salad ingredients can be prepared in the morning, covered with plastic wrap and refrigerated until needed.
Print this recipe