Cooking at Home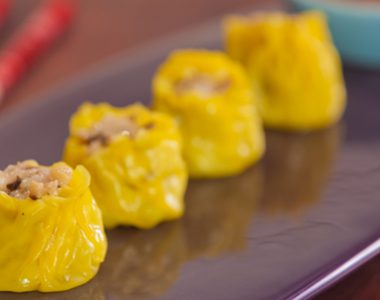 Ingredients
300g pork belly
6 dried Chinese mushroom
1 tsp salt
2 tsp sugar
1/8 tsp white pepper
2 tsp Kikkoman Naturally Brewed Soy Sauce
2 tsp corn flour
100ml cold water
4 tsp sesame oil
1 clove garlic, sliced
1 tbsp. sesame oil
15 wonton wrappers (cut into round discs)
Chilli Sauce
Fresh red chilli, chopped (seeds removed)
2 garlic cloves
1/2 red capsicum
1/4 red onion
150 ml white vinegar
7 tsp sugar
2 sprigs fresh coriander
Kikkoman sauce used in this recipe

Naturally Brewed Soy Sauce
TOTAL TIME
1hr 9min Cook time
9min Prep time
60min
Pork & Mushroom 'Sui Mai' Dumplings
Method
Soak the dried Chinese mushrooms in hot water, and dice into small cubes when soft.
Chop 2/3 of the pork belly into a fine mince and cut the rest into small cubes.
Mix the pork belly mince with the seasoning ingredients (except water and sesame oil) in an electric mixer for 5 minutes on medium speed.
Turn the mixer onto the slow setting, add in the cold water and mix for a further 2 minutes. The mixture should now have an elastic texture.
Add in the diced pork, diced mushrooms and the rest of the ingredients. Mix thoroughly and refrigerate for 30 minutes.
Spoon filing onto the middle of the wonton pastry and form a shape of a shiu mai.
Place in a lightly greased bamboo steamer, cover with lid and steam for 9 minutes.
To make the chili sauce: put all the ingredients in a blender and thoroughly combine.
Print this recipe
See how to make this dish