Cooking at Home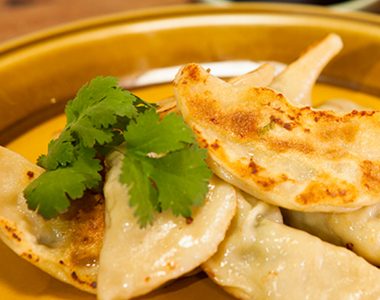 Ingredients
1 head of Chinese cabbage shredded
1 large knob of fresh ginger, finely chopped
2 cloves garlic, crushed
450g fresh ground pork
1 bunch of spring onions, finely diced
1 bunch coriander, chopped
3 tbsp. Kikkoman Naturally Brewed Soy Sauce
2 tbsp. apple cider vinegar
Salt and pepper for seasoning
1 teaspoon sesame oil
2 packages of won ton wraps
1tsp. peanut oil
Kikkoman sauce used in this recipe

Naturally Brewed Soy Sauce
TOTAL TIME
50mins Cook time
20mins Prep time
30mins
Pork, Ginger & Cabbage Pot Stickers
Method
In a bowl, add pork mince, ginger, garlic cabbage, coriander, onions, soy sauce, cider vinegar, season with salt and pepper, move to the fridge to cool.
To make the pot sticks, add 1 tablespoon of mixture to each won ton skin, and the brush the edges with water, seal together around the edges with your fingers.
Heat 1-1/2 teaspoons peanut oil in a large nonstick skillet over medium-high heat. Arrange the dumplings in the skillet (not too close together) and cook, without disturbing them, until their sides are golden brown which takes about 2 minutes.
Add 1/4 cup water and immediately cover the pan.
Turn the heat down a bit, to medium. Cook for 5 minutes.
Uncover the pan and turn the heat back up to medium-high. If there is remaining water, cook it off. Shake the pan a few times, turning the dumplings, as you continue frying the dumplings until their sides become crispy, about 2 minutes more.
Key tip
As an option, you can include finely diced prawns.
Print this recipe
See how to make this dish