Cooking at Home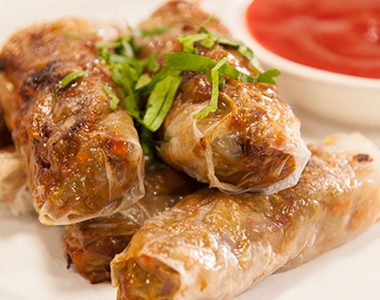 Ingredients
200g cooked lamb, finely diced
1 cup green cabbage, finely shredded
1 celery stick, finely sliced
1 carrot, finely chopped
1 onion, finely sliced
2 garlic cloves, crushed
2 tbsp. miso paste
2 tbsp. Kikkoman Tamari Soy Sauce
8 sheets rice paper
2 tbsp. rice bran oil for brushing
Kikkoman sauce used in this recipe

Tamari Soy Sauce
TOTAL TIME
40min Cook time
15min Prep time
25min
Baked Lamb Chiko Roll
Method
Pre-heat the oven to 180C.
Remove the rice paper and soak in water, one sheet at a time.
Add the onion, garlic, cabbage, celery and carrot to the frying pan and cook until soft. Add the lamb, miso paste and tamari and cook until heated through.
Lay 1 rice paper roll at a time and spoon 3 tbsp. of mixture at the bottom centre of the sheet and fold the sides into the middle and roll. Brush the roll with oil and cover with slightly moist tea towel. Repeat until all the mixture is used.
Brush the baking tray with a little oil and place the rolls on the tray, cook for 10 minutes or until golden brown.
Serve with chilli sauce.
Print this recipe