Cooking at Home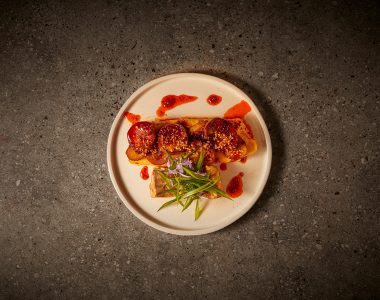 Ingredients
Caramelised King Mushroom
4 king mushrooms
4 tbsp kikkoman soy sauce
1 tbsp mirin
1 tbsp rice vinegar
1 garlic clove minced
½ tsp Chinese black vinegar
1 tsp canola oil
4 water chestnuts
Shallot Ginger Flathead
½ tsp sesame oil
4 x 100g flathead fillets
1 thumb size of ginger
Egg omelette
8 eggs (2 per person)
60ml cream
50g Butter
4 tsp Chinese chilli oil to garnish
Kikkoman sauce used in this recipe

Naturally Brewed Soy Sauce
TOTAL TIME
30min Serves
4 Cook time
5-10min Prep time
20min
Shallot Ginger Flathead with Caramelised King Mushrooms & Egg Omelette
This delicious asian inspired omelette with a seafood twist, is so tasty you'll want to eat it for every meal.
Method
For mushrooms: Add all wet ingredients to a small mixing bowl with the garlic and whisk with a fork until combined.
Place in sliced mushrooms and fold through the marinade until coated and leave for 10-15 Minutes.
Place a pan on low to med heat, add canola oil and place the sliced mushrooms in the pan and cook on each side for 1 min.
When mushrooms are nearly done add the sliced water chestnuts to the pan to soak up any juices. Take out of the pan and put aside until the other components are cooked and ready to plate.
For Flathead: Using the same pan from the mushrooms on medium heat add sesame oil and place the fish in, let it cook for 30 seconds on one side then add sliced ginger, mushroom marinate and cover for a further 2 minutes. This will steam the fish and also deglaze the pan.
For egg omelette: Choose to make 4 small individual omelettes or 2 medium size ones. Place desired size frying pan on low heat.
Whisk the eggs with a splash of cream.
Add a nob of butter to the pan. Melt the butter over medium-low heat. Tip: Keep the temperature low and slow when cooking making sure the bottom does not overcook.
Add the eggs to a pan. Let the eggs sit for a minute, then use a spatula to gently lift the cooked eggs from the edges of the pan. Tilt the pan to allow the uncooked eggs to flow to the edge of the pan.
To assemble dish: Place cooked omelette on your plate, place mushrooms and water chestnuts on top with any juices. Carefully place the fish next the omelette and place fresh shallots on top of fish and finish with a drizzle of Chinese chilli oil on top.
Print this recipe
See how to make this dish