Cooking at Home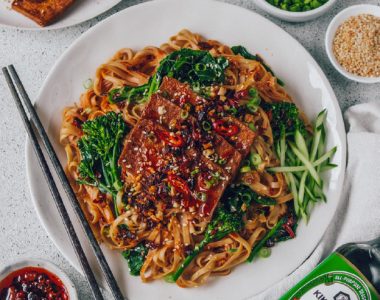 Ingredients
2 servings of noodles of choice
1 small bunch of broccoli or greens of choice
Sauce
2 tbsp Kikkoman Less Salt Soy Sauce
1 tbsp Chinese black vinegar
2 tsp sesame oil
1 tbsp tahini
1 tbsp smooth peanut butter
1 tbsp maple syrup
2 garlic cloves, minced
Chilli oil, to taste (plus more to serve)
Tofu
250g firm tofu, sliced into thin rectangles
2 tbsp Kikkoman Less Salt Soy Sauce
1 tbsp coconut sugar
1 tsp sesame oil
To serve
Crushed roasted peanuts
Toasted sesame seeds
Green onion
Cucumber, thinly sliced
Kikkoman sauce used in this recipe

Naturally Brewed Less Salt Soy Sauce
TOTAL TIME
25 min Serves
2 Cook time
10 min Prep time
15min
Chilli Garlic Sesame Noodles
Making this warming, spicy, restaurant style, chilli garlic and sesame noodles dish is so simple and oh so delicious, you'll want to make it over and over again.
Method
Step 1
Bring a pot of water to the boil. Add your noodles of choice and cook according to packet instructions. In the last 2 minutes of the cooking time, add your choice of greens, then drain, rinse with cold water and set aside.
Step 2
In the meantime, heat a frypan on medium heat and add a splash of cooking oil. Fry the tofu on both sides until golden, turn the heat down to low, then season with the soy sauce, coconut sugar and sesame oil. Toss well to coat the tofu.
Step 3
Combine all the sauce ingredients into a large bowl and mix well.
Step 4
Add the noodles and greens into the bowl and mix until well coated.
Step 5
Transfer into a bowl or a plate and top with the tofu. Garnish with roasted peanuts, sesame seeds, green onions, cucumber and extra chilli oil. Enjoy immediately.
Recipe by @thrivingonplants
Print this recipe