Cooking at Home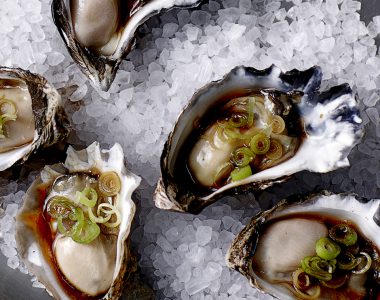 Ingredients
24 Sydney Rock Oysters, or similar, on the half shell
2 tablespoons lemon grass, finely chopped
2 Spring (green) onions, white part only, thinly sliced
2 tablespoons (40mL) Kikkoman Naturally Brewed Soy Sauce
2 tablespoons (40mL) rice vinegar
1/2 teaspoon sesame oil
Kikkoman sauce used in this recipe

Naturally Brewed Soy Sauce
TOTAL TIME
10min Prep time
10min
Oysters with Lemongrass & Sesame Soy Dressing
Method
To make the dressing, combine the Soy Sauce, rice vinegar and sesame oil in a small screw-top jar and shake well. Set aside.
Place the oysters on a large serving platter. Drizzle over the dressing, then sprinkle a little of the lemon grass and spring onions on top of each oyster. Serve immediately.
Key tip
Tip: the lemon grass and Spring onions can be prepared 2 hours ahead and covered with plastic wrap until needed.
Tip: the dressing may be made the day before and stored in refrigerator until needed.
Print this recipe