Cooking at Home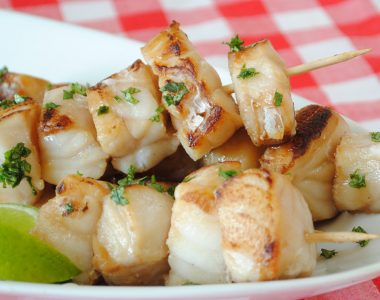 Ingredients
1/4 cup Kikkoman Teriyaki Marinade & Stir Fry Sauce
1 clove garlic, crushed
500g ling or other firm white fish fillets cut into 3cm squares
1 tablespoon vegetable oil
green salad, to serve
Kikkoman sauce used in this recipe

Teriyaki Marinade & Stir Fry Sauce
TOTAL TIME
1hr 25mins Cook time
15min Prep time
1hr 10mins
Teriyaki Fish Skewers
Method
Combine the Teriyaki Marinade and garlic in a bowl. Add the fish, making sure its well covered with the marinade. Refrigerate for 1 hour.
Remove fish from Marinade and thread onto skewers, then place on a plate.
Heat barbecue flat plate to medium high, brush the flat plate with the oil, and cook skewers for 3-4 minutes each side or until cooked through.
Serve immediately with your favourite green salad.
Print this recipe