Cooking at Home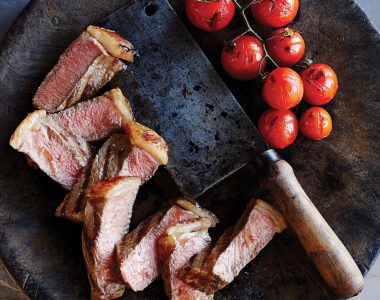 Ingredients
4 (200g approx.) rump steaks
1/2 cup (120mL) Kikkoman Soy Sauce
4 cloves garlic, minced
Olive oil
400g baby truss tomatoes
Rocket Salad
2 bunches rocket, washed and dried
3 tbsp. olive oil
1 tbsp. Balsamic vinegar
Pinch sugar, to taste
Garlic Mayonnaise
1 cup store-bought Egg Mayonnaise
2 tbsp. Kikkoman Soy Sauce
½ tsp. garlic, minced
Kikkoman sauce used in this recipe

Naturally Brewed Soy Sauce
TOTAL TIME
25min Cook time
10min Prep time
15min
Rump Steak with Baby Truss Tomatoes, Rocket Salad & Garlic Mayonnaise
Method
Make a marinade by mixing Kikkoman Soy Sauce with the garlic.
Pre-heat barbecue grill to hot. Brush steaks lightly with olive oil. Cook steaks 4-5 minutes on one side (depending on thickness of meat), brushing regularly with the garlic marinade.
Turn, baste with more of the Garlic Marinade and cook for another 4 minutes or until cooked to your liking. Remove from heat, cover loosely with foil and allow resting for 5 minutes.
Meanwhile, brush tomatoes with olive oil, place on grill and cook for 3 minutes each side, turning frequently until just tender.
To make the garlic mayonnaise, combine mayonnaise and Kikkoman Soy Sauce and garlic and mix well. Place in a small serving bowl and set aside.
To make the salad, whisk together olive oil, vinegar and sugar. Place rocket in a large salad bowl, add dressing and mix gently, making sure rocket is well coated.
To serve: Carve steaks into serving size pieces and place on a large platter, together with the tomatoes. Serve salad and garlic mayonnaise separately.
Key tip
Variation: substitute lamb steaks if desired.
Print this recipe