Cooking at Home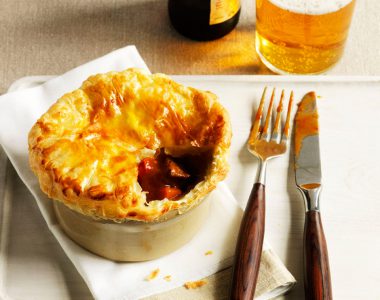 Ingredients
800g chuck steak, cut into 3cm pieces
50g seasoned plain flour, for dusting
50ml olive oil
1 onion, diced
1 carrot, diced
2 garlic cloves, finely chopped
200g canned cherry tomatoes
100ml red wine
300ml beef stock
100ml Kikkoman Less Salt Naturally Brewed Soy Sauce*
1 fresh bay leaf
1 tbsp. red wine vinegar
375g butter puff pastry sheet
1 egg yolk, for brushing
Kikkoman sauce used in this recipe

Naturally Brewed Less Salt Soy Sauce
TOTAL TIME
3hrs 40min Cook time
3hrs 10min Prep time
30min
Beef Pot Pie
Method
Toss beef in 30g seasoned plain flour to coat well, shake off excess. Heat half the oil in a large saucepan (or casserole pan with a lid) over medium-high heat, add beef and brown well all over, and remove from saucepan.
Heat remaining oil in saucepan, add onion, carrot and garlic and saute, scraping base of pan, until tender (4-5 minutes). Add remaining season plain flour, stir for 1 minute, add canned tomato and wine and stir until smooth.
Add stock and Kikkoman Less Salt Soy Sauce, bring to the simmer. Return the beef to the pan, add bay leaves, season to taste with black pepper and reduce heat to low, cover and simmer for 1 _ hours. Remove lid and simmer, stirring occasionally, until beef is very tender (45 minutes-1 hour).
Stir through vinegar, check seasoning and divide among four 250ml-capacity oven-proof dishes and set aside.
Pre-heat oven to 200C. Cut out rounds from puff pastry large enough to cover with a 5mm overhang, brush edges with egg yolk, then place over beef mixture, pressing edges to seal with a fork. Brush pastry tops with egg yolk, season with pepper and pierce a hole in the centre.
Place on a baking tray and bake until pastry is golden and cooked through (15-20 minutes) and serve hot.
Key tip
This dish is equally as delicious served as a casserole without the pastry lid.
*This can be replaced with Kikkoman Naturally Brewed Soy Sauce.
Print this recipe