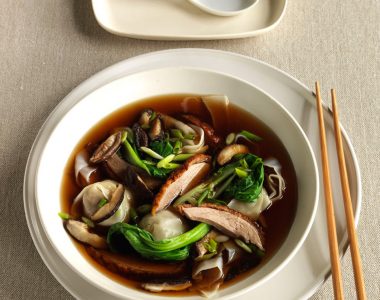 Ingredients
1 Chinese roast duck
1 litre (4 cups) chicken stock
200ml Kikkoman Less Salt Naturally Brewed Soy Sauce*
3 thick slices of ginger
3 star anise
2 pieces dried mandarin peel
2 spring onions, thinly sliced, plus extra, thinly sliced, to serve
1 garlic clove, finely chopped
16 wonton wrappers
4 baby bok choy, halved
1 packet of thick rice noodles (cooked according to pack instructions)
8 large shitake mushrooms, thickly sliced
Kikkoman sauce used in this recipe

Naturally Brewed Less Salt Soy Sauce
TOTAL TIME
2hr 15mins Cook time
1hr 30mins Prep time
45mins
Roast Duck & Wonton Soup
Method
Remove each breast from duck in a single piece, leaving skin intact and refrigerate until required. Remove remaining skin from duck (discard), then shred remaining meat and set aside separately.
Coarsely chop duck carcass with a cleaver and combine in a large saucepan with stock, Kikkoman Less Salt Soy Sauce, ginger, star anise, mandarin peel, cinnamon and 500ml cold water. Bring to the boil; reduce heat and simmer, skimming fat and scum from surface occasionally, until well flavoured (45 minutes _ 1 hour). Strain into a clean saucepan and set aside.
Meanwhile, finely chop shredded duck meat, combine in a bowl with spring onion and garlic and set aside. Lay out four wonton wrappers, spoon a little duck mixture on one side of each, brush edges lightly with water, fold wonton wrapper over and press to seal edges, ensuring there are no air bubbles.
Brush one corner of each half-moon with water, fold opposite corner over, press to seal and place on a tray. Repeat with remaining wrappers and duck mixture. Blanch wontons in a saucepan of boiling water until cooked through, drain and refresh.
Preheat oven to 200C. Place duck breasts on an oven tray and warm through, then thickly slice. Meanwhile, bring duck broth to the simmer over medium-high heat, season to taste with white pepper and an extra splash of Kikkoman Less Salt Soy Sauce, add bok choy and mushrooms and simmer for 30 seconds.
To serve, divide cooked rice noodles amongst warm bowls, add wontons, sliced duck breast, and portion duck broth amongst each bowl, scatter with sliced spring onion and serve hot.
*This can be replaced with Kikkoman Naturally Brewed Soy Sauce.
Print this recipe