Cooking at Home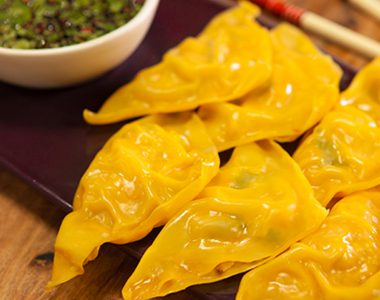 Ingredients
250g fresh snow peas, finely chopped
500g green prawns, remove shell and deveined (without the shell = 250g)
2 tbsp. fresh ginger, grated
1 tbsp. Kikkoman Naturally Brewed Gluten Free Soy Sauce
1 tbsp. rice vinegar
1 tsp. sesame oil
1 egg, beaten
20-30 egg wonton wrappers
Dipping Sauce
1/4 cup Kikkoman Tamari Soy Sauce
4 tbsp. of finely chopped coriander
1 small fresh chilli
2 tsp. of honey
Kikkoman sauce used in this recipe

Naturally Brewed Gluten Free Soy Sauce

Tamari Soy Sauce
TOTAL TIME
45min Cook time
15min Prep time
30min
Prawn & Snow Pea Dumplings with Chilli Dipping Sauce
Method
In a food processor add the prawns, ginger, soy, vinegar, and sesame oil, and pulse till roughly mixed, transfer into a large bowl.
Steam or blanche the snow peas till soft and mix will the prawn mixture.
Place 1 tsp. of the filling in the centre of each wonton wrapper and brush edges with a little water; fold over into a triangle, pressing edges together to form a dumpling. Place a baking paper lined tray.
Line a steamer with baking paper and place over a pan of boiling water. Steam the dumplings for 5 minutes or until filling is cooked and wrappers tender.
Mix all of the dipping sauce ingredients together and serve on a platter with the dipping sauce in the middle.
Print this recipe
See how to make this dish