Cooking at Home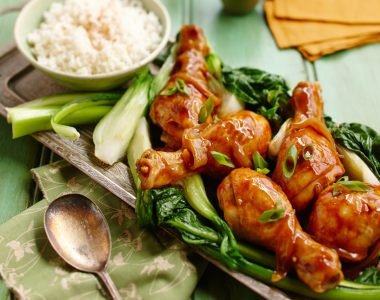 Ingredients
1.5kg chicken drumsticks
1 large brown onion, peeled and cut into wedges
4 cloves garlic, peeled and finely sliced
250ml Kikkoman Teriyaki Marinade
1 cup chicken stock
4 spring onions, sliced
Steamed Asian greens, to serve
Kikkoman sauce used in this recipe

Teriyaki Marinade & Stir Fry Sauce
TOTAL TIME
55min Cook time
40min Prep time
15min
Teriyaki Sticky Legs
Method
Preheat oven to 160 deg C. Place drumsticks, onion and garlic in a large roasting pan. In a small bowl combine the Teriyaki marinade and stock then pour over the drumsticks to coat. Cover pan with foil and bake for 45-50 minutes or until meat is tender.
Remove pan from oven and place legs on a serving platter. Cover with foil to keep warm. Meanwhile, place remaining cooking juices into a saute pan and reduce liquid for about 5 minutes or until sauce has thickened.
To serve, arrange steamed greens on a serving platter. Place the drumsticks on top and drizzle with the sauce.
Print this recipe