Cooking at Home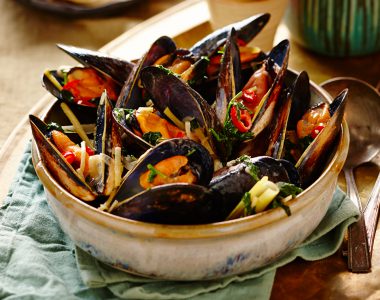 Ingredients
1 tbsp peanut or vegetable oil
1 shallot, finely chopped
2 cloves garlic, finely sliced
4cm piece of ginger, peeled and cut into small matchsticks
1 stalk lemongrass, bruised
270ml coconut milk
2 tsp sake
1 tbsp Kikkoman Less Salt Soy Sauce
2 tsp white miso paste
1kg mussels, scrubbed and de-bearded
1 red chilli, chopped
¼ cup fresh coriander, chopped roughly
Warm naan bread to serve
Kikkoman sauce used in this recipe

Naturally Brewed Less Salt Soy Sauce
TOTAL TIME
25min Cook time
10min Prep time
15min
Coconut Mussels
Method
Heat oil in a heavy saucepan on medium heat. Add the shallot, garlic, ginger and lemon grass. Sauté until shallots and garlic are translucent.
Add coconut milk, sake, soy sauce and miso paste. Simmer for 5 minutes.
Add the mussels and chilli and stir well. Cover with a tight lid and cook for 5 minutes or until all of the mussels have opened. Remove pan from heat and stir in coriander.
To serve, remove any un-opened mussels and place remaining mussels and broth in a large bowl. Serve with the warmed naan bread.
Print this recipe