Cooking at Home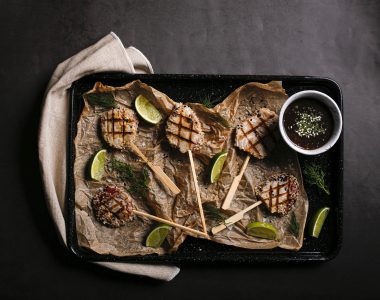 Ingredients
50g sesame seeds
2 tuna steaks, approximately 150g each and about 1cm thick
Sesame oil
Salt and freshly ground black pepper
Soy Dipping Sauce
100ml Kikkoman Naturally Brewed Soy Sauce
½ teaspoon minced garlic
½ teaspoon minced ginger
2 tablespoons of Kikkoman Mirin
60g brown sugar
Kikkoman sauce used in this recipe

Naturally Brewed Soy Sauce
TOTAL TIME
28 mins Serves
8 Cook time
13 mins Prep time
15 mins
Tuna Lollipops with Soy Dipping Sauce
Perfect for entertaining or get togethers
Method
Preheat the oven to 180C. Spread the sesame seeds on a baking tray lined with baking parchment and toast in the oven for 10 minutes, or until lightly golden. Remove from the oven and allow to cool.
Make the soy dipping sauce by placing all ingredients in a small saucepan, heat and reduce until syrupy; strain through a strainer and allow to cool for 5 mins.
Meanwhile, using a 3–4cm round cutter or the rim of a shot glass, cut out four circles from each tuna steak. Place the trimmings in the fridge to use for another time. Roll the outsides of the tuna circles in the sesame seeds to form a nice crust. Season to taste.
Heat a frypan over high heat with a small splash of oil, then quickly sauté the tuna circles for around 30 seconds. Insert a lollipop stick through the middle of each, and serve with your soy dipping sauce.
Best served when hot and fresh, but can be served cold.
Print this recipe