Cooking at Home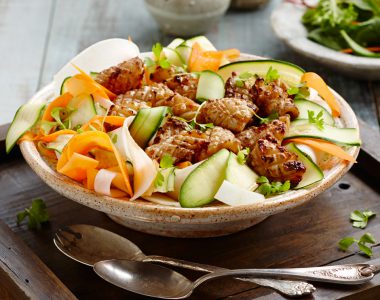 Ingredients
3 large squid tubes, about 600g
2 cloves garlic, finely sliced
1 tsp five spice powder
60ml Kikkoman Less Salt Soy Sauce
1 tbsp peanut or vegetable oil
Dressing
1 tbsp Kikkoman Less Salt Soy Sauce
1 tsp mirin
1 tbsp peanut or vegetable oil
1/4 tsp sesame oil
3 tbsp pomegranate juice
Salad
1 medium zucchini, sliced into ribbons
1 small carrot, peeled and sliced into ribbons
1/2 large daikon, peeled and sliced into ribbons
1/2 continental cucumber, peeled and sliced into ribbons
Fresh coriander to serve
Kikkoman sauce used in this recipe

Naturally Brewed Less Salt Soy Sauce
TOTAL TIME
45min Cook time
10min Prep time
35min
Grilled Five-Spice Squid with Raw Vegetable Salad
Method
To prepare the squid, cut each tube in half lengthwise. Score the halves in a checkerboard pattern on the inner flesh side. Cut each half lengthwise again and then each quarter into 3. Place squid pieces in a large zip lock bag. Add the garlic, five spice powder, less salt soy sauce and oil. Seal and leave to marinade in refrigerator for at least 30 minutes.
Meanwhile, prepare the dressing by placing the ingredients into a small bowl and whisk to emulsify. Set aside.
Heat a grill plate on medium-low heat. Remove the squid pieces from the bag, drain off the excess marinade and discard. Grill the pieces in batches for 3-4 minutes or until just cooked through. Do not over cook as squid will become tough.
To serve, place vegetable ribbons on a serving platter. Top with the warm squid and drizzle with the prepared dressing. Sprinkle with fresh coriander and serve immediately.
Print this recipe