Cooking at Home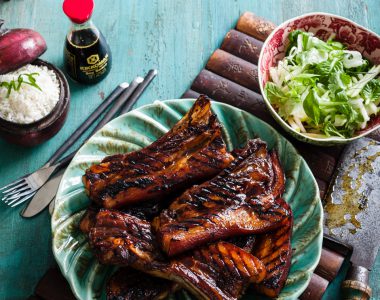 Ingredients
1.5kg pork belly ribs
500ml (2 cups) Kikkoman Naturally Brewed Soy Sauce
375ml (1 1/2 cups) Chinese rice wine (shoaxing)*
110g (1/2 cup) caster sugar
5cm piece ginger, thinly sliced
2 garlic cloves, thinly sliced
2 cinnamon quills
2 tbs honey
125ml (1/2 cup) Kikkoman Honey and Soy Marinade and Stir Fry Sauce
Coriander and thinly sliced green onions, to serve
Kikkoman sauce used in this recipe

Naturally Brewed Soy Sauce

Honey and Soy Marinade and Stir Fry Sauce
TOTAL TIME
3.5hrs Cook time
3.5hrs
Braised Barbecued Honey & Soy Pork Ribs
Method
Preheat oven to 160C. Place pork in a single layer in a deep baking dish.
Place Kikkoman Soy Sauce, rice wine, sugar, ginger, garlic, cinnamon and 375ml water in a small saucepan and bring to the boil over high heat.
Reduce heat to low and simmer for 5 minutes or until slightly reduced. Pour over pork, making sure ribs are completely covered. Cover with foil and bake for 3 hours. Remove from oven and discard braising liquid.
Preheat a barbecue or chargrill plate to medium. Combine honey with Kikkoman Honey and Soy Marinade and Sauce in a small bowl.
Cook pork, basting with marinade, for 2 minutes each side or until pork is lightly browned.
Serve with coriander and green onions.
Key tip
* Available from Asian food shops.
Print this recipe