Cooking at Home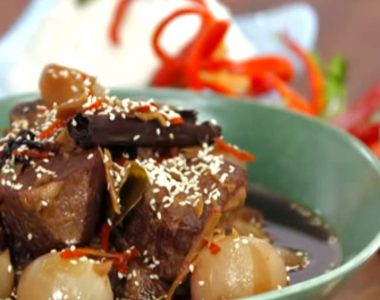 Ingredients
1kg beef short ribs
2 large knobs ginger, peeled and sliced
4 garlic cloves, peeled and sliced
1 long red chilli, deseeded, sliced
10 shallots, peeled
2 star anise
1 cinnamon stick
750ml beef stock or water
200ml Kikkoman Less Salt Soy Sauce
100ml Chinese cooking wine
1/2 cup brown sugar
2 kaffir lime leaves
2 tbsp. vegetable oil
Garnish
Toasted sesame seeds
Steamed rice
Kikkoman sauce used in this recipe

Naturally Brewed Less Salt Soy Sauce
TOTAL TIME
3.25hrs Cook time
30mins Prep time
2hrs 45mins
Sesame, Ginger & Soy Slow Cooked Beef Ribs
Method
Heat oil in an ovenproof baking dish. Add beef short ribs, season with salt and pepper and cook for 5 five minutes or until nicely browned. Remove from the pan and set aside.
Add shallots, chilli, ginger and garlic to the pan. Cook for 1 minute or until fragrant. Add star anise and cinnamon stick.
Deglaze the pan with Chinese wine and then add the sugar. Cook for a further one minute.
Pour in soy sauce and stock. Return ribs to the pan along with the kaffir lime leaves. Bring to the boil.
Cover the pan with a lid and transfer to a preheated oven at 160C for 2 to 2 1/2 hours or until meat falls off the bone.
Serve with steamed rice and topped with toasted sesame seeds.
Print this recipe
See how to make this dish