Cooking at Home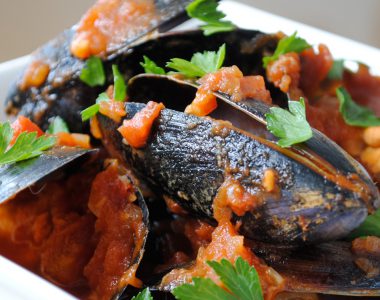 Ingredients
2 tablespoons (40mL) rice bran or peanut oil
1 onion, finely chopped
2 cloves garlic, minced
1 tablespoon (20mL) tomato paste
1 tablespoon (20mL) Kikkoman Sweet Chilli, Ginger & Soy Marinade & Stir Fry Sauce
2x 400g can crushed Italian-style tomatoes
Finely grated rind and juice of 1 lemon
2 teaspoons caster sugar
1 teaspoon salt
1/2 cup (125mL) dry white wine
1.5kg mussels, beards removed
1/2 cup flat-leaf parsley leaves, roughly chopped
Crusty bread, to serve
Kikkoman sauce used in this recipe

Sweet Chilli, Ginger and Soy Marinade and Stir Fry Sauce
TOTAL TIME
35min Cook time
25min Prep time
10min
Mussels in Spicy Tomato Sauce
Method
Heat oil in a large deep saucepan over low-medium heat. Add onion and garlic. Cook stirring for about 3 minutes or until onion is soft, taking care not to burn. Add tomato paste and stir into onion mixture.
Add Sweet Chilli, Ginger & Soy Marinade and Sauce, tomatoes, lemon rind and juice, caster sugar and wine. Simmer, uncovered for 8-10 minutes or until slightly thickened.
Add mussels to sauce. Cover and cook, shaking pan occasionally, until mussels open. Discard any mussels not open.
Ladle sauce and mussels into bowls. Sprinkle with parsley. Serve with crusty bread.
Print this recipe