Cooking at Home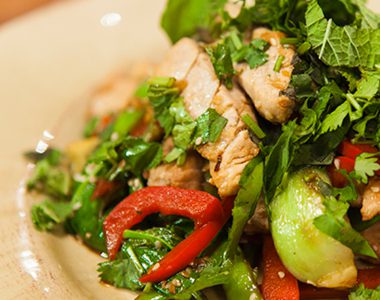 Ingredients
2 x 200g tuna steak cut in thick strips
1 cup of bok choy
1 cup of Chinese broccoli
1/2 cup of snow peas
1 cup of red capsicum, roughly chopped
1 tsp of red chilli, deseeded and chopped
1 tsp of ginger, finely grated
1 tsp of garlic, crushed
1-2 tbsp. of peanut oil
4 tbsp. of Kikkoman Less Salt Soy Sauce
1/4 cup fresh mint, roughly chopped
1/4 cup fresh coriander, roughly chopped
1-2 tbsp. sesame seeds
Kikkoman sauce used in this recipe

Naturally Brewed Less Salt Soy Sauce
TOTAL TIME
30min Cook time
15min Prep time
15min
Asian Stir Fry with Tuna
Method
In a hot wok add the peanut oil, and then once the oil is hot add the ginger, garlic, chilli and tuna. Cook until the tuna is golden brown and still pink on the inside.
Remove from the wok into a bowl.
Add the remaining ingredients into the wok apart from the coriander and mint. Stir for about 5-10 minutes and then add the tuna, mint and coriander, gently mix though. Serve.
Print this recipe
See how to make this dish