Cooking at Home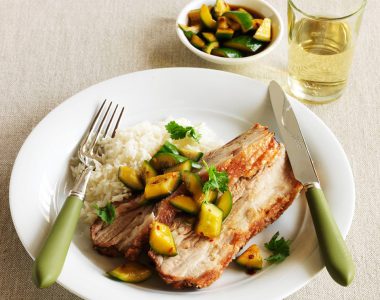 Ingredients
80g (1/4 cup) mild miso paste
1/2 tablespoon five-spice powder
1 tsp. brown sugar
40ml Kikkoman Naturally Brewed Soy Sauce
20ml orange juice
1 tsp. ginger, finely grated
2 tbsp. sea salt flakes
1.2 kg piece pork belly, scored at 1.5cm intervals
Steamed rice and coarsely torn coriander, to serve
Pickled Cucumbers
60ml Kikkoman Naturally Brewed Soy Sauce
40ml rice vinegar
5ml tsp sesame oil
1 tsp dried chili flakes
3 Lebanese cucumbers, halved lengthways, seeds removed, coarsely chopped diagonally
Kikkoman sauce used in this recipe

Naturally Brewed Soy Sauce
TOTAL TIME
3hrs 15min Cook time
2hrs 45min Prep time
30min
Miso Roasted Pork Belly with Pickled Cucumber
Method
Combine miso, five spice, sugar, Kikkoman Soy Sauce, orange juice and ginger in a bowl stir to combine.
Rub over flesh side of pork then place skin side up on a wire rack on a roasting tray scatter with sea salt flakes and refrigerate uncovered for flavours to develop and skin to dry out (6 hours).
Preheat oven 220C. Brush off excess salt, drizzle with oil and roast until golden and skin begins to crisp (15 minutes). Reduce heat to 150C and cook until pork is very tender (2-2_ hours). Set aside to rest. The miso has natural sugars so if the pork is colouring too quickly cover ends loosely with foil.
Meanwhile, for pickled cucumbers, combine Kikkoman Soy Sauce, rice vinegar sesame oil and chilli flakes in a bowl. Whisk to combine, add cucumbers, stir to coat and refrigerate stirring occasionally for flavours to develop (2 hours).
Serve miso glazed pork belly with pickled cucumbers, steamed rice and coriander scattered over.
Print this recipe