Cooking at Home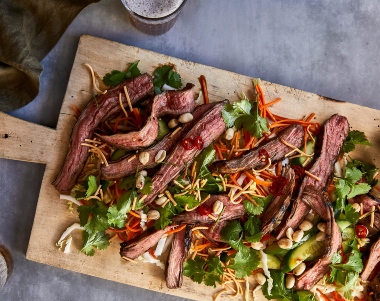 Ingredients
Marinade
1/2 cup Kikkoman Less Salt Soy Sauce
zest & juice of 1 orange
2 tbs honey
3 cloves garlic, crushed
1 birdseye chilli, roughly chopped
2 kaffir lime leaves, finely sliced
Salad
1/4 wombok cabbage, finely shredded
2 cucumbers, seeds removed, cut on angle
1 carrot, cut in threads
100g peanuts, toasted
100g fried noodles
1 bunch coriander, leaves only
1 bunch Thai basil, leaves only
2 kaffir lime leaves, finely shredded
Dressing
3 limes, juiced
1 tblsp Kikkoman Naturally Brewed Less Salt Soy Sauce
3 fresh birds eye chillis*
1 tsp white sugar
Kikkoman sauce used in this recipe

Naturally Brewed Less Salt Soy Sauce
TOTAL TIME
30 min Serves
4 Cook time
15 min Prep time
15 min
Soy Marinated Flank Steak with Crispy Asian Style Salad
If you're looking for something easy and delicious to cook, look no further than this juicy flank steak with crispy Asian style salad. This dish is so vibrant and packed full of flavour, with a punch that'll really get those tastebuds singing!
Method
Step 1
Place steak in a shallow dish large enough to fit whole steak and marinade. Make the marinade by mixing together all the ingredients in a bowl. Pour over steak and allow to sit at room temperature for 20 mins. Turn on BBQ at this point and heat to high, you want the BBQ smoking hot**.
Step 2
While steak is marinading, prepare all the veg for salad, keeping elements separate until final plating. Make the dressing by whisking together all dressing ingredients in a small bowl. Place in fridge until ready to serve.
Step 3
Once the BBQ is hot and steak is at room temperature, cook for 4-5 mins turning frequently. With this particular cut you want to have a nice medium rare, blushing pink finish. Once cooked to your liking, place steak on a board and allow to rest for 10 mins. Using a sharp knife, slice on the angle.
Step 4
Serve steak and salad on a larger serving board, dress salad at the last minute and finish with extra herbs.
Key tip
*Feel free to reduce (or increase) the amount of chilli in this dish, I like mine quite spicy.
**This recipe can also be cooked indoors in a griddle pan or large heavy based skillet – the key is to ensure the pan is super hot to lock in the flavour and tenderness of the meat.
Cooking steak – hot bbq – turning frequently – cooking to medium rare – important to let the meat rest after cooking to allow the meat to settle and continue to cook
Marinating steak adds flavour.
Salad – dressing only at the end – all about balance – being

crunchy is important

Kikkoman Less Salt Soy Sauce, is naturally brewed using Kikkoman S

oy Sauce, salt is then extracted after the brewing process, resulting in 43% less salt.
Print this recipe
See how to make this dish